"Can you beat the Mega Monster and save the City?"

In the Super City Rampage Event, three players battle as a team against a dinosaur robot, trying to defeat it before it destroys all of the buildings on the map. If all players are knocked out or the dinosaur robot destroys all of the city before you can stop it, the players will lose. With each win, the difficulty will increase in the next level. Super City Rampage is an unranked mode, so Trophies cannot be earned or lost. If you are playing with teammates, the level is set to the lowest that the members of your team have reached. Brawlers' attacks and Supers are 3 times less effective at charging Supers in this mode.
Mega Monster Abilities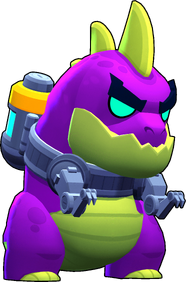 Anger: The monster will become angry when its health is 75% in Normal; 75% and 45% in Hard; 75%, 45% and 15% in Expert; 75%, 45%, 30% and 15% in Master; 75%, 60%, 45%, 30% and 15% in Insane+. When the monster is angry, it will go wild and target your team, it will not target the buildings during this phase. It will have a 100% boost to its movement speed and use enhanced abilities designed to chase down Brawlers. In its normal phase, the monster has an incredibly slow speed of 550. For Insane and above, the monster will go enraged after 2 minutes and target buildings exclusively. Anger phases affect the monster's size, stats, and attacks. The monster will return to its normal phase once angry after 14 seconds have passed.
Chomp: The monster chomps nearby buildings every 0.4 seconds in its normal phase; its attack speed doubles when angry. Chomps deal 800+ damage to any nearby Brawlers, including in its normal phase. After the first anger phase is over, the monster will now use this attack on nearby Brawlers.
Leap: The monster will use a long ranged leap to catch up to Brawlers in its angry phase. This ability knockbacks enemy Brawlers and deals 1000+ damage, but has a 1.5 second windup. After the first anger phase is over, the monster will now use this attack to catch up to nearby buildings in a 11 tile radius. Once the monster goes enraged, it will use this ability whenever it can to destroy any remaining buildings.
Spin: When the monster is overwhelmed, it will use an area of effect attack to stun Brawlers. When the monster is about to spin, it will show three flashing red arrows above it to warn you to get away. The attack has a 2 second windup and stuns nearby Brawlers for 2 seconds in a 3.33 tile radius but deals no damage.
Immunity: Slowdowns and stuns are less effective during the monster's normal and angry phases. The monster can only be stunned for a split second. After its enraged phase, the monster becomes completely immune to slowdowns, stuns, and knockbacks.
Levels
Every time you beat the monster, it gains more health and abilities. The last level that you can complete is Insane XVI.
| Level | Monster Health | Monster's New Abilities |
| --- | --- | --- |
| Normal | 150,000 | Chomp and leap attacks, starts getting angry depending on its health |
| Hard | 250,000 | Spin attack |
| Expert | 300,000 | - |
| Master | 350,000 | - |
| Insane | 400,000 | Starts getting enraged (2:00) |
| Insane II+ | 450,000+ | 10% attack increase for every level past Insane |
Useful Brawlers
Tips
Respawn time is 20 seconds instead of the normal 5, so it is important to stay alive. The monster will also get harder to defeat as time progresses, making it essential to avoid dying and keep doing damage as quickly as possible.
Never use Supers to break walls as it will help the monster to destroy the city, giving you less time to defeat the monster.
When the monster is angry, lead the monster away from buildings so that you and your teammates have more time to defeat the monster.
Always try to heal up as the monster can outrun almost all Brawlers in its angry phase. Even one teammate's death during this phase means massive consequences.
The monster also targets spawnables in its angry phase making them decent meatshields until it returns to normal.
Although not necessary, using Brawlers which can attack at medium to long range is advisable to ensure distance is kept from the monster.
History
On 2/7/20, the Super City Rampage event was added to the game.
On 8/7/20, several glitches were patched and difficulty levels were adjusted. The monster is now immune to stuns, push backs and slowdown when he is enraged.
Community content is available under
CC-BY-SA
unless otherwise noted.