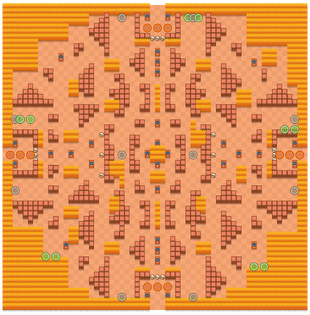 Layout
Rockwall Brawl is a very well layed out, geometric patterened map. There is a lot of cover around the edges of the map.
Tips, Tricks, and Strategy 
If you get one of the outer start positions, see who your "neighbor" is. If they are an easy kill, you can sneak over them and assasinate them, removing a potential threat.
As the storm closes in, the main cover is eaten up, and it becomes an all-out fight. Range brawlers, like Leon or Penny are good if you can camp a central position. Heavier fighters are good due to the lack of safe places on this map.