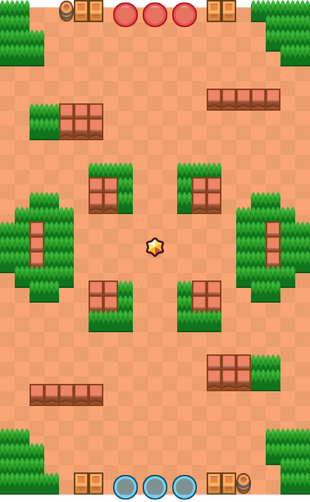 Crystal Clearing is a removed official map for the Bounty event.
Crystal Cavern is an identical replica of this map for use in the Gem Grab game mode, and Star Gulch is another identical replica for the beta release.
Layout
Crystal Clearing has bushes on the side and in the backs of the map. Near the star, you can see two blocks or stones. The blocks are set 2x2 on each side. As for the bushes in the center, they are shaped as "L"s.
| Name | Count |
| --- | --- |
| Barrel | 2 |
| Wooden Box | 8 |
| Red Sandstone Block | 44 |
| Green Bush | 120 |
Tips
You should use brawlers like Shelly or really, any brawler that can bush camp and does enough damage.
If you use throwers, avoid camping in the bushes on the sides since there will usually be brawlers hiding in those bushes. Use your attacks to chase them out.
Community content is available under
CC-BY-SA
unless otherwise noted.